OAKDALE RETRIEVERS
The Labrador Connection


OAKDALE RETRIEVERS, established in 1988, is dedicated to raising, training, and breeding fine examples of Labrador Retrievers. Keeping that goal in mind, OAKDALE RETRIEVERS provides a full care home setting for your puppy's socialization, crate training and housebreaking needs. While staying with us, your puppy will be started on basic obedience and whistle commands, introduced to the sights and sounds of field work and basic puppy retrieves. With lots of extra touches to make your puppy feel at home, we provide the best home start possible for your future "field champion".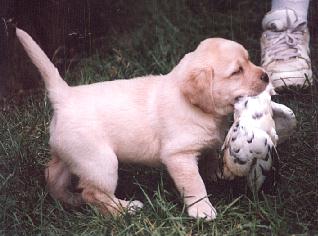 Upon arrival at OAKDALE RETRIEVERS, a visit to a licensed veterinarian will be arranged for immunizations and fecal testing. Puppies are required to have DHLP (distemper, hepatitis, leptosporosis, adenovirous, parvo), Corona and Bordatella vaccines every 3 weeks until age 23 weeks or a total of 4 vaccines depending on the puppy's age. Worming medication will be administered as needed. Puppies will be started on heartworm preventative also. Any medical attention required, other than the above, will be an additional expense. In the case of additional medical attention, OAKDALE RETRIEVERS will make every attempt to obtain your authorization beforehand, but will reserve the right to have your puppy examined and/or treated as deemed necessary in their opinion. CERF exams available upon request.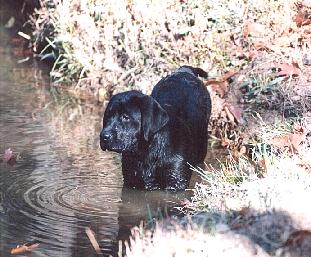 OAKDALE RETRIEVERS is ready to assist you in making the transition to your young dog Professional Trainer. When your puppy is ready to make the move to a young dog Professional Trainer, we will be happy to work with the Professional Trainer you have already selected or assist you in the selection of a trainer. Our aim is to make the transitition as stress free as possible for your pup!




©
BACK TO OUR HOMEPAGE
ABOUT US
THE TRAINOR "KIDS"
FAMILY ALBUM
FAMILY ALBUM, Page 2
OBEDIENCE TIPS
CRATE TRAINING TIPS
KENNEL TOUR
THE TRAINING GROUP
PROFESSIONAL DOG TRAINERS
FOOTPRINTS - Inspirational Poem

VIEW MY GUESTBOOK
SIGN MY GUESTBOOK

AMERICAN KENNEL CLUB (AKC)
THE LABRADOR RETRIEVER HOME PAGE
- FAQ and more!
WORKING RETRIEVER CENTRAL
- More info on working retrievers? Don't miss this site!!
PURINA PET CARE CENTER
- PRO PLAN MAINTENANCE=shiny coats and energy!
RETRIEVER WORLD
- Loaded with equipment for working retrievers!
GUN DOG EXPRESS
- Check out this site for quality dog & kennel supplies
WEB-COUNTER
- Visit this web site and get a free counter for visitors to your homepage!
You are our
visitor! Please bookmark our homepage for updates on dog training tips!

Will and Vicky Lane Trainor
blklabs@OakdaleRetrievers.com
Copyright & copy; 1996 Vicky Lane Trainor
This Home Page was created on Thursday, August 22, 1996
Most recent revision Monday, January 15, 2001