OAKDALE RETRIEVERS
The Labrador Connection

In Remembrance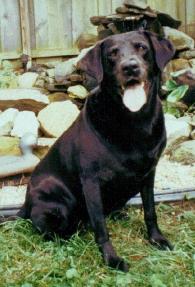 MILADY HOLLY BERRY, CGC
"Holly"
Daddy's Girl and Mommy's Holly Bear
September 27, 1988 - January 27, 2001

If tears could build a stairway
And memories a lane,
I'd walk right up to Heaven
And bring you home again.

Goodbye's are hard to say when you know you are losing something you love, but we must remember that the Lord has said "not one sparrow falls that I do not know about, and care for." The Lord was only letting us know that there comes a time to die for all, and He cares for not only people but all things. So Holly is "retrieving" with no restrictions. So let us take courage and remember the good memories that she left here on earth.

Rev. James H. Lane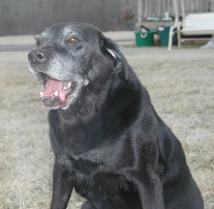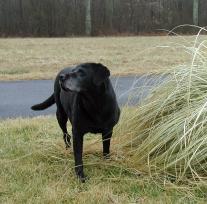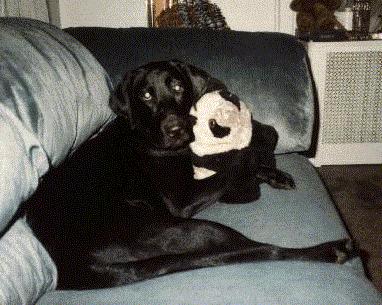 CHELSEA'S HEART OF GOLD, CGC, CDX, JH
"Chelsea"
Mommy's Baby Girl and Daddy's Chelser
March 1, 1989 - February 26, 2001




"Just a few weeks after having to put down our beloved Holly Bear, our Chelsea's Heart of Gold, just wasn't acting right. As we rushed to the vet, my wife lamented "Oh God, what if she doesn't make it? What'll I do if she doesn't make it?"



YOU'LL CRY

I knew the answer, but I just couldn't say
I know what you'll do, you'll cry
She's still wagging her tail, and she'll probably be fine
But you imagine the worst, and you cry.
Then the vet did the test, and the blood told the tale
You know what it means, and you cry.
Now we could prolong her life briefly, or spare her the pain,
We make our decision, and you cry.
We give her a blanket, but she chooses the cool floor
Her tail's still wagging as she lies, and you cry.
You give her a biscuit, and she gobbles it down,
And she looks for another, and you cry.
Then the time comes, to say our good byes
And we hug her so hard, and we cry.
Chelsea gets her last needle, and she breathes her last breath,
She's off to see Holly, and you cry, (as do I)
You know she's in heaven and it should be a comfort
And it will be, but it's not now, and you cry
Then you cry, and you cry, and you cry and you cry
Til you're all out of tears, then you cry.
Friends and family call, you want to tell how and why
But all you can say is "She's gone", and you cry.
You'll awake the next morning, thinking it was all a bad dream
Then the truth will set in and you'll cry.
You won't want to get up, but the dogs need to be fed
You'll fix one less bowl, and you'll cry.
You'll spot her favorite toy, a chewed on Teddy Bear,
You'll bend down to pick it up, and you'll cry.
Then you'll cry all day long, and the day after that
And the day after that, you'll cry too.
You know you can't recover, your heart will never mend,
But you do, and it does, and you cry
Then the hole in your heart made by Holly, and made deeper by Chelsea,
Will slowly start to heal, and you'll cry
You will tell a few stories, of what a good girl she was.
You'll remember something funny she did and you'll laugh…
and then you'll cry.

Will wrote this poem for me the night we lost Chelsea. When I told him I didn't know he could write a poem, he asked if I wanted to read it. I said "Yes" and he said "You'll cry" ... and I did.



(Not to be reprinted without our permission)



I BELIEVE
Every now and then, soft as breath upon my skin
I feel you come back again
And it's like you haven't been gone a moment from my side
Like the tears were never cried
Like the hands of time are holding you and me
And with all my heart, I'm sure, we're closer than we ever were
I don't have to hear or see, I've got all the proof I need
There are more than angels watching over me
I believe. I believe.





Now when you die your life goes on, it doesn't end here when you're gone
Every soul is filled with light, it never ends and if I'm right,
Our love can even reach across eternity
I believe. I believe.
For ever you're a part of me
For ever in the heart of me
I'll hold you even longer if I can
Oh, the people who don't see the most
Say that I believe in ghosts
If that makes me crazy, then I am
'Cause I believe. Oh, I believe.
There are more than angels watching over me
I believe. I believe.

Diamond Rio

©
BACK TO OUR HOME PAGE
ABOUT US
PUPPY PROGRAM
THE TRAINOR "KIDS"
FAMILY ALBUM
FAMILY ALBUM, Page 2
OBEDIENCE TIPS
CRATE TRAINING TIPS
KENNEL TOUR
THE TRAINING GROUP
PROFESSIONAL DOG TRAINERS
FOOTPRINTS - Inspirational Poem

Will and Vicky Lane Trainor
blklabs@OakdaleRetrievers.com
Copyright & copy; 1996 Vicky Lane Trainor
This Home Page was created on Friday, August 23, 1996
Most recent revision Saturday, January 27, 2001